Smart solutions respond to the client's needs, understand the client environment, and remain open to finding the best possible option
Ashish Mukherjee
Chief Executive Officer
Ashish has over thirty years of experience in broadcast systems integration and post-production systems. The running joke in office is that he has probably forgotten more about broadcast technology than most people learn in a lifetime. His career reads like an incredible journey, from analog video to IP streaming. After schooling in the Caribbean, Ashish graduated as an Electrical Engineer from IIT-Kharagpur. Before co-founding Benchmark Broadcast, he worked as an engineer in ORG Systems, and in Sales at Wipro Information Technology Ltd.
He founded Benchmark Broadcast Systems with a vision to continue exploring innovative technology for client needs. His pioneering solutions for digitisation ushered in a new era for the Asian broadcast industry. Under his leadership, Benchmark Broadcast brought non-linear editing and web-browser based newsroom to Asia. In partnership with CTO, Ramesh Babu, he also introduced the first complete Storage Area Network (SAN) based TV station online and implemented a Virtual Studio System in early 2000, the first in Asia.  He successfully expanded Benchmark's System Integration capabilities to several ASEAN countries with large value projects at TV5 and UNTV in the Philippines and multiple projects in Bangladesh.
He currently oversees commercial activities, which includes business development, product sales, account development, sales engineering, marketing and partnerships, in India, and North, South and Southeast Asian regions. As CEO, he also looks after overall group performance, short-term tactics, and long-term strategies. Most of all, he enjoys working with talented and hard-working individuals who give Benchmark Broadcast an edge in the industry.
S. Ramesh Babu
Chief Technology Officer
Ramesh aka SRB claims that he was born on January 27, 1993, the day he joined Benchmark Broadcast Systems. From starting out as an engineer to rising the ranks as the company CTO, over two decades his clear focus on tech vectors and their progression has seen him deliver unparalleled customer benefits. He has established a track record in helping customers to build better services and deliver content for seamless, on-time delivery in highly time-sensitive windows for DTT, Satellite distribution, HITS, DTH, Cable, IPTV, and OTT.
His expertise in convergence, media asset management (MAM), broadcast automation, and Newsroom systems has empowered customers with solutions in ad insertion, Newsroom, automation, financial news, archiving, and uplink. With his in-depth understanding of evolving technologies for broadcasters, he has helped Benchmark Broadcast expand its services to deliver HD projects and MAM workflows for clients in the Middle East and other new countries in ASEAN and Pacific Islands. He has been successful in acquiring and overseeing long term managed services in the region and ensuring a steady revenue stream.
Currently, SRB provides leadership in Benchmark Broadcast's strategic planning, technology, business development, and change management. He also has the credit of developing the company's strong engineering team with strategic recruitment of promising young graduates. His firm belief in the power of teamwork creates an organization-wide culture of the efficiency that has become the Benchmark Broadcast trademark.
Don't forget to ask him about his relationship with the number 8 and the power of infinity.
Reliability is at the core of our services. We strive to build systems that can weather contingencies, changes, and time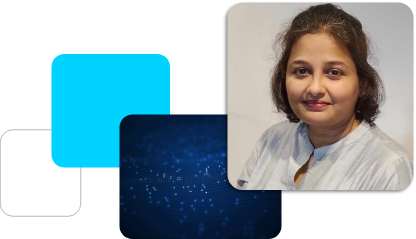 We focus on adding value at every step
Veena Manoharan
Finance Controller
Veena has over two decades of experience in finance, accounts, audit and taxation, of which twelve years have been with Benchmark Broadcast. She is a member of the Association of Chartered Certified Accountants,UK, and the Institute of Singapore Chartered Accountants. Veena oversees the company's financial and regulatory compliance, and is well-versed with international financial compliance.
Working with the support of finance teams across various offices in the Philippines, Malaysia and India, she runs a tight ship when it comes to the organization's finance, taxation, and administrative functions. A well-known 'tight fist', she makes sure to keep the management abreast of the company group's current financial position. She also plays the role of legal counselor and gate-keeper for all company partnership agreements and client contracts, which makes her role critical to the sustenance of all Benchmark Broadcast's endeavours.
Raghu Rajagopalan
Co-founder
Raghu is the second of the three co-founders of the original Benchmark group of companies. Till he retired a few years back, he played an intrinsic role (and continues to contribute) in a variety of areas of Benchmark Broadcast operations including image processing/machine vision, broadcast systems design and integration, fiber optics/wireless communication, PCB and FPGA CAD. He has a B.Tech. degree in Electrical Engineering from IIT-Madras, and an MS (Computer Science) from University of California, Santa Barbara. Prior to founding Benchmark Broadcast, he worked in IC CAD, manufacturing of Apple 2 compatible computers and Mac Software development.
Senthil Nathan
Co-founder
Senthil was one of the three co-founders of the original Benchmark group of companies (two of which were acquired by NASDAQ companies). As a serial tech entrepreneur with multiple global technology related businesses to his credit, he is well-known for his computer vision, software development, product development, engineering management and business strategy. He graduated with a B.Tech. from IIT-Madras, and an MS (Computer Science) from Stony Brook University. As the founding board member of the IIT-Madras Incubation Cell he continues to be an active part of his first alma mater's incubation ecosystem where he actively mentors student startups, serving on the screening and investment committees.
Eswaran has over 20 years of experience in working on engineering projects. He has been in the broadcast and media industry for the last 12 years managing projects in South and SouthEast Asia. His primary focus is project management combined with service quality that meets the customer expectations.  To his credit over the last few years, he has completed successful projects at Mediacorp and Starhub Singapore, ZEEL MAM project in India, MYTV Malaysia and few more in the region. He also leads the software development team that handles all Benchmark Bridge software modules that are deployed at various Bloomberg franchise in SE Asia and CNBC.
MP Eswaran
VP Engineering
Praveer has 26 years of dynamic and extensive experience in building brands and businesses.He has held senior management roles in prominent organisations such as NEWSX, Mahuaa TV, Voice of India, Zee Network, Trend TV (DTH and MMDS – Africa), India TV, ESPN, Star Sports and Star TV Network. Well known in industry circles and professional associations as a 'Media Evangelist' he is a leader, innovator and strategist with a strong acumen for technology, business development, distribution, research, joint venture management, new product launches. At Benchmark Broadcast he looks after revenues, operations, and expansion into new services and product lines.
Praveer Gaur
Strategic Accounts
Matt leads a team specialized in providing engineering and sales support to our clients in Asia. He has worked in different industries (telecommunications, broadcast, etc.), and served diverse markets, from East Africa to North America and Asia. Currently he Manages a Team of Engineers in Philippines and provide engineering and sales support to customers throughout Asia. With such breadth and depth of experience he can see endless possibilities where others might see problems. He was part of the integration team that launched East Africa's first DTH system Wanachi in Nairobi, Kenya.
Matt Ashe
Regional Manager
Sofia is one of our most important points of contact in Malaysia. She is a one-woman army who is in charge of all financial and commercial operations which includes accounting and finance, human resource management, and administration. She is Benchmark Broadcast's liaison with the local government to ensure the company fulfills all statutory compliances. She also assists the local sales and engineering team with tender processes, client pitches, project implementation, and after sales. When it comes to customer relationships she goes the extra mile to exceed expectations.
Elisofia B.M. Noor
Director
Ignatius Benito
Principal Consultant
Benito has been with Benchmark Broadcast for over twelve years. He brings to the table extensive experience in IT media and headend infrastructure for television distribution systems and OTT distribution systems.
Prasenjit Sengupta
Principal Consultant
Prasenjit has two decades of experience in media and entertainment software, and hardware sales with extensive knowledge of file-based workflows for film and video editing, DI, and high-end VFX. He looks after business development across Bangladesh and Nepal.
Jeremiah Ravada Jayababu
Regional Manager
Jeremiah is a recognised technology leader. He has mastered middleware and open system development, network implementation, and building teams of engineers. He is now pathfinding business opportunities in India, Bangladesh, Malaysia, and the Middle East.
Ramarathinam V.
Regional Manager
Ramarathinam aka Ramu is a qualified PRINCE2 practitioner and one of our seasoned international project management experts. He leads a team of broadcast engineers and works on pre-sales, bid management, and system design/solutions.
Venkatesh Kalidasan
Solution Architect
Venkatesh aka Venky has a PRINCE2 Foundation certification. He manages projects and teams, contributes to solution design and architecture, and heads a team of engineers in pre-sales. He has been with Benchmark Broadcast for twelve years.
Nallamuthu S.
Solution Architect
Nallamuthu is a VMware Certified Associate, trained in administering vSphere 6.7, with PRINCE2 Foundation. He has been with Benchmark Broadcast for fourteen years and currently heads a post-sales design and implementation team.
Farruque Hossain Khan
Support Manager
Farruque is our go-to person for the Bangladesh market where he looks after channel installations, training, and after-sales tech support. He is also a veteran in radio frequency (RF) engineering, uplink, Earth station, television-automation/MAM, networking, and broadcast television.
Vivek Lakshman
Engineering Manager
Working with Benchmark Broadcast since 2008, Vivek specializes in Newsroom, MAM, automation, editing and file-based workflow. He is qualified to provide product training in Octopus, and has a Streamlabs certification as well.
Vinay Sarvana
Senior Lead Engineer
Vinay has been with us since 2008. He is a PMP-certified project management expert and a qualified Octopus product trainer. As senior team lead he manages the pre-sales and implementation of IPTV, OTT and MAM projects.
Arun is an AWS certified solutions architect with a PRINCE2 Foundation and a PG Diploma in Management. He is a Pre-sales Engineering team lead and also Benchmark Broadcast's ABU Media Academy focal point connect.
Sathiya Raj
Principal Engineer
Raj leads teams of engineers and manages the pre-sales, design, and implementation of broadcast projects. With over a decade in the organization, he is one of Benchmark Broadcast's project management experts with a PRINCE2 Foundation certification.
Ronnel Puno
Sales Engineer
Ronnel handles technical pre-sales for the Manila team, provides broadcast solutions for clients in the Philippines, manages new and existing customers, and maintains customer support which includes managing customer service specialists.
Hannah John
Finance Manager
Hannah oversees compliance with statutory requirements, and strategic functions such as Receivables, Payables, Payroll and Inventory. She is an ACCA graduate, and active member of ISCA and ACCA.
Vidhyavati Manian
Procurement and Logistics Manager
Vidhya has an M.Com. in Accountancy. She looks after procurement and logistics as well as commercial proposals, receiving and processing orders, Letters of Credit, bank documentation, RMA, and Annual Maintenance Contracts.
Ganesh
Manager - Accounts
Ganesh is a certified CMA. He is the one we look to at the end of every month to tally the financial transactions and payrolls.  He also looks after internal audit, and tax compliance.
Charu Chana
Senior Sales Co-ordinator
Charu is the in-house problem solver who handles sales coordination. She also shoulders the additional responsibility of looking after Benchmark Broadcast's human resource and administrative concerns.
Benchmark Alumni
and their current position
Once you're part of the Benchmark institution, you always remain a part of the family wherever you go.
1993-1996, 2004-2011

PROTIK BANERJEE

Sales Director,

Grass Valley.

1997-2007

KEVIN OAKLEY

Founder,

Özker Kilo Media Consultants.

2000- 2007

SUSHANT RAI

Vice President (Sales),

TVU Networks.

2003-2012

ROBERT SHEN

Business Development Manager,

Axon Digital Design.

2008-2012

DETESH AGGARWAL

Business Manager,

EVS Broadcast Equipment.